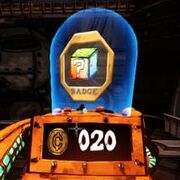 Shops are randomly spawned at
loot
locations.  As of 0.56b shops sell
items
or
badges
.  These can either be specific and recognised by their logo, or a random version.
If the player has the amount of gold indicated on the shop and stands on the front of the shop, the display changes to "SOLD!" and the force field is withdrawn to allow access to the sale item.
If the player has insufficient money, the display says "NO SALE!" and a negative sound cue plays.
If ghost mode is used, you still cannot get the item without paying for it.
If a shop is spawned in the gearworks room on the small ledge behind the long horizontal turbo tunnel, it is possible to  use the  lip of the shop to jump up onto the ledge.  This is normally impossible to do without some kind of jumping assistance.
Ad blocker interference detected!
Wikia is a free-to-use site that makes money from advertising. We have a modified experience for viewers using ad blockers

Wikia is not accessible if you've made further modifications. Remove the custom ad blocker rule(s) and the page will load as expected.