Partybringer

Unlock:

Found
Lv 1
Lv 5
10
80

Rate of Fire:

High
Low

Accuracy:

High
High

Spread:

1 Shot
1 Shot, Split to 6

Explosion:

None

Level Up Rate:

2.8

Ease:

High

Special:

Shots Explode into Seeking Shots

Class ID:

Tog_W_Leech

Positive Mods

Negative Mods

Rapid, Spread?

Precise, Uber
The Partybringer is a weapon randomly found in the Tower. It has red protrusions and several barrels on top of a main barrel, but fires from the main barrel only. Its shots will split apart and home in on enemies. Originally, the weapon intended to deal damage to the player every time it's fired. This feature was omitted due to not being fun.
At level one, fires a basic shot
At level two and above the shots break apart into beams of light that seek targets.
Does a large amount of damage at high levels.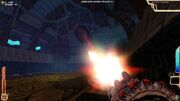 Ad blocker interference detected!
Wikia is a free-to-use site that makes money from advertising. We have a modified experience for viewers using ad blockers

Wikia is not accessible if you've made further modifications. Remove the custom ad blocker rule(s) and the page will load as expected.